The Lewis B. Flinn President's Award is made in the name of Lewis B. Flinn, M.D., a founder and the first President of the Delaware Academy of Medicine. It is awarded to an individual or organization that has achieved distinction by substantive contributions to the well being of our community through education, leadership, philanthropy, or service.
The 2017 recipient of the Lewis B. Flinn President's award is
The Honorable Susan C. Del Pesco, Esq.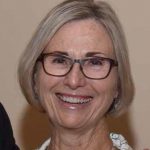 Susan Del Pesco was born in Southern California where she lived through college, graduating from the University of California, Santa Barbara. She came to Delaware when her husband. Tom. completed his Ph.D. and accepted a job in Delaware with the DuPont Company.
Susan's first job as an 8th grade English teacher, followed by two years as a social worker. Her work as a social worker took her into the Family Court where she got her first exposure to the law. Just when she began thinking about going to law school, the Delaware Law School opened, so she decided to give it a try.
She was a member of the school's first graduating class in 1975, and was admitted to the Delaware bar the same year.
Delaware was the last state in the nation to admit women to its bar; the number of women admitted between 1923 and 1974 was very small, Susan was the 25th female admittee. That's why Susan's personal history has several firsts.
She was the first woman partner in her law firm, then called Prickett, Jones, Elliott, Kristol & Schnee, the first woman to be President of the Delaware State Bar Association and the first woman to serve as a Judge of the Delaware Superior Court.
In 2008, after 20 years of trying cases on the Superior Court, she retired, and took on two entirely new challenges:
She became the Public Member of the national board of the American College of Obstetricians and Gynecologist, where she got her first introduction to the issue of medical ethics, and she accepted the position of Director of the Division of Long Term Care Resident's Protection, a part of the Delaware Department of Health and Human Services.
The Division is responsible for protecting people who live in a long-term care setting by enforcing state and federal regulations. That population is primarily, but not exclusively, elderly. The first area of concern that came to Susan's attention was the prevalence of financial exploitation of the elderly. Upon examination of the Delaware laws related to powers of attorney, it became clear that the Delaware statute needed updating. Susan led a group of attorneys who wrote a comprehensive new statute, and advocated for its enactment in 2010.
Susan retired from DHSS in December 2012. In January 2013 when the Academy of Medicine launched the effort to write and enact a statute that authorized an end of life medical order in Delaware, she was pleased to be
invited. Working over a period of months with Dr. Kathleen McNicholas, Dr. John Goodill, Tim Gibbs, Sheila Grant and others who volunteered to be part of the team, a statute was written. The legislative process was overseen by Rita Landgraf , Secretary of DHSS, and her legislative assistant, Deborah Gottschalk. The law passed in 2015.
Susan is honored to have received the highest honor bestowed by the Delaware State Bar Association, the Distinguished Service Award, and to have been inducted into the Delaware Women's Hall of Fame.
She and husband Tom have been married for 51 years. They have two sons, Joseph a curator of contemporary art, and Nicholas a psychotherapist.
She has served as a member of the Ethics Committee of Christiana Care Health System for the past 4 years.
Previous Recipients of the Lewis B. Flinn President's Award
 2008:     Victor F. Battaglia, Sr., Esq.
2009:     Robert W. Frelick, M.D.
2010:     Leslie W. Whitney, M.D.
2011:     Robert B. Flinn, M.D.
2012:     Edwin L. Granite, D.M.D
2013:     Katherine L. Esterly, M.D.
2014:     LTG(DE) William H. Duncan, M.D.
2015:     Joseph A. Kuhn, M.D.
2016: J. Kent Riegel, Esq.