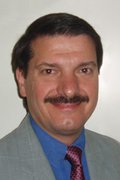 Dr. Rizzo is the Chief of Pulmonary and Critical Care Medicine at Christiana Care's Pulmonary and Critical Care Medicine Section.
Dr. Rizzo's appointment to the job in 2007 follows 24 years of service in the section as an assistant and associate section chief. His responsibilities include representing the section's interests to the Department of Medicine and working with the Credentials Committee to provide credentials and privileges to section members. He coordinates educational programs for section members and develops projects to improve their job performance.
He served as medical director for Pulmonary Disease Management. This role included developing guidelines for treating and discharging patients with lung-related illnesses such as asthma, pneumonia, emphysema and bronchitis. In addition, he is on the Lung Cancer Health Improvement Team and the Pharmacy and Therapeutics Committee.
Dr. Rizzo earned his medical degree in 1978 from Jefferson Medical College of Thomas Jefferson University in Philadelphia. He was an intern and resident in internal medicine at the university's hospitals from 1978 to 1981. He completed a fellowship in pulmonary medicine in 1983 at Georgetown University Hospital in Washington, D.C. From 1999 to 2001, he received specialized training in sleep medicine through a preceptorship sponsored by the Robert Wood Johnson medical system at Kennedy Hospital.
Dr. Rizzo practices with Pulmonary Associates, which has offices near Christiana Hospital and in Wilmington. He is board-certified in internal medicine, pulmonary disease and critical-care medicine and sleep-medicine disorders. He is a fellow in the American College of Physicians (FACP) and the American College of Chest Physicians (FACCP).
His experience in academia dates to 1992. He currently serves as a clinical professor of medicine at Jefferson Medical College. He is also medical director and on the Medical Advisory Board for the School of Respiratory Care at Delaware Technical & Community College.
Dr. Rizzo is an active researcher and lecturer. He has served as principal investigator for numerous drug studies related to treating respiratory illnesses. His lectures have covered topics ranging from the diagnosis and treatment of lung-related illnesses to the effects of sleep disorders on heart health.
His special interests include asthma management, chronic obstructive pulmonary disease and pulmonary rehabilitation, and obstructive sleep apnea and programs to encourage patients to follow their treatment regimen.
He is deeply involved in the American Lung Association. He has been on the local organization's board of directors since 1987 and has served as chairman of that board on two occasions. He has been active at a national level for the association and is currently the speaker of the American Lung Association Nationwide Assembly. The national organization has recognized him four times with honors that included the John Janvier Black, M.D., Award for Community Service and the Volunteer Excellence Award in Program Innovation.
Dr. Rizzo's other professional and community activities include serving as chairman of the Pharmacy and Therapeutic Committee, which creates a preferred drug list for Delaware's Medicaid program. He was appointed to the position by the secretary for Delaware Health and Social Services. He is also on the state Drug Utilization Review Board.