Secretary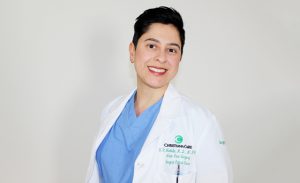 Dr. Medinilla completed a BA degree in Sociology at Bryn Mawr College in Bryn Mawr, PA before earning a Master's degree in Public Health at MCP Hahnemann University School of Public Health in Philadelphia. She then completed her medical education at Temple University, where she remained for General Surgery internship and residency, serving finally as chief resident. Before going into private practice and joining the Christiana Care Medical-Dental Staff, she was a Surgical Critical Care fellow at the R. Adams Cowley Shock Trauma Center of the University of Maryland Medical Center in Baltimore.
With past employment experience in pharmaceutical research, public health education, and occupational health, Dr. Medinilla has also served as a past director of legislative affairs for the American Medical Student Association. She founded Temple University School of Medicine's chapter of Physicians for Human Rights and has worked as a homeless outreach volunteer in Philadelphia.
Dr. Medinilla has published material on erythrocyte-coupled fibrinolytics, prophylactic fibrinolysis, and pulmonary microemboli. She has made presentations concerning erythrocyte carriage in laboratory animals, mustard gas exposure, and penetrating chest trauma.  Dr. Medinilla is board certified in general surgery.