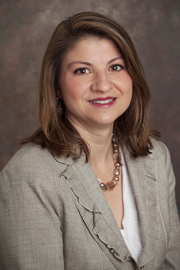 Dr. Papas' current research projects focus on understanding the determinants of obesity among vulnerable populations. She is actively engaged in research focused on the role of maternal dietary factors and food insecurity in Hispanic families, understanding obesity among adolescents with disabilities, and health risks associated with away from home food use. Dr. Papas has extensive experience in supporting multiple research projects representing various disciplines.
After receiving her PhD in Epidemiology from the Johns Hopkins School of Public Health, she worked as a post-doctoral fellow for the Division of Growth and Nutrition in the Pediatrics Department of the University of Maryland School of Medicine. Through this experience she supported multiple projects during various phases including the development and implementation of these research projects as well as the analysis. She has designed and analyzed data for randomized controlled trials and observational studies conducted within the Division. She also developed her own research investigating the impact of the built environment and fast food intake on obesity among adolescents residing in low-income rural and urban communities. This work has resulted in authorship of over 20 peer reviewed articles ranging from examinations of the built environment on adolescent overweight, investigations of growth rates among children who experienced early growth deficiency, dietary factors of inner-city adolescent mothers, fiber and colorectal cancer, and the influence of pain on adherence to mammography screening guidelines.
Her expertise includes experimental and observational study designs, the assessment of validity and reliability of screening tools, sample size and statistical power, the analysis of longitudinal data, hierarchical linear modeling, the use of GIS in understanding the effect of place on health and health behaviors, factor analysis, survival analysis, and multivariate logistic and linear regression.