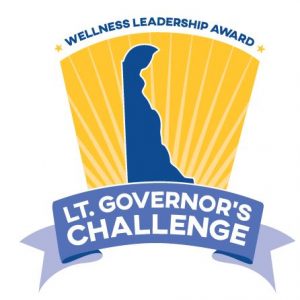 Lt. Governor Bethany Hall-Long invites you to join the celebration as the state of Delaware kicks off the Lt. Governor's Challenge — an ongoing opportunity for Delawareans to embrace healthier living, inspire their peers and be recognized for their achievements. More than a recognition program for health and wellness initiatives, the Lt. Governor's Challenge is an opportunity for everyone to drive change and to elevate the well-being, productivity, and prosperity among communities in our state!
The Kickoff Celebration is a free public event, open to all individuals and groups in Delaware that are passionate about improving physical and emotional health through individual and communal activities.
When: Thursday, October 25 from 2:00 – 3:00 pm
Where: DE TURF Sports Complex | 4000 Bay Road | Frederica, DE 19946
Find the flyer here!
Kickoff Highlights
Remarks by the Lt. Governor!
Official reveal of the Lt. Governor's Challenge vision and platform!
Preview of the Lt. Governor's Challenge nomination and resource website!
Networking with state leaders in health and well-being!
Please RSVP by October 23 to info@ltgovernorschallenge.org