Archives of the History of Medicine and Dentistry in Delaware

Overview of the Collection
Repository: Delaware Academy of Medicine, 4765 Ogletown Stanton Road, Suite L-10, Newark, DE 19713
Creator: Delaware Academy of Medicine (Newark, Del.)
Title: Delaware Academy of Medicine Archive of the History of Medicine and Dentistry
Dates: 1580-2006
Quantity: 316 linear feet
Abstract: A collection of rare books, archival files, medical antiques, and other items related to the history of medicine in the state of Delaware, including documenting the lives of individual doctors, dentists, nurses, and other health professionals.
Identification: US DeWAM
Language: The records are in English.
Administrative Note
The Delaware Academy of Medicine was founded by sixteen doctors and dentists in 1930. These included Julian Adair, MD; Olin S. Allen, MD; Joseph M. Barsky, Sr., MD; W. Edwin Bird, MD; J. Draper Brown, DDS; Lewis B. Flinn, MD; George W.K. Forrest, MD; William H. Kraemer, MD; W. Oscar LaMotte, Sr., MD; Emil R. Mayerberg, MD; John H. Mullin, MD; W. Morris Pierson, MD; James H. Spackman, MD; Albert J. Strikol, MD; Charles E. Wagner, MD; and Victor D. Washburn, MD. Their goal was to provide a professional library and a meeting place where doctors and dentists from all over the state could gather to exchange ideas and experiences, and so improve the quality and delivery of medical care. They also intended the Academy to be a historical repository for the Delaware medical community, documenting and memorializing the lives of its members.
For 74 years, the Delaware Academy of Medicine was housed in the former Bank of Delaware building, which was built in 1815 on Sixth and Market Streets in Wilmington. After the bank moved to newer quarters in 1931 and the building was left empty, Mrs. Henry B. Thompson and Mrs. Ernest I. duPont led a drive to raised funds to purchase the building for the newly founded Academy. With their help and support, the building was relocated to the current site on Lovering Avenue, and the Academy took up residence there in 1932. In 1958, an addition was constructed, expanding the auditorium and creating more office space for the various medical groups that had their offices in the building. In late 2006, the Academy moved to the campus of Christiana Care Hospital in Newark, becoming part of the new John H. Ammon Medical Education Center.
Over the years since 1930, the Academy's purpose has grown broader. It serves the Delaware medical community by offering them a meeting place, and it provides medical library services with an extensive collection of journals, books, and databases and other electronic resources that few other institutions in the state can match. It also sends librarians directly to hospitals and other medical institutions around Delaware through its Circuit Riding Medical Librarian Program. Since 1961, the Academy has also provided financial aid to medical students.
But today, the Delaware Academy of Medicine serves the general public directly as well. It makes its health information resources accessible to everyone in many ways, including professional reference librarian service, the Gail P. Gill Consumer Health Library of popular medical books, and the TEL-MED automated health information service. Through a partnership with the Division of Public Health, it provides consumer health information services at public libraries in Kent and Sussex Counties. It also holds lectures and seminars to educate the public on important health topics.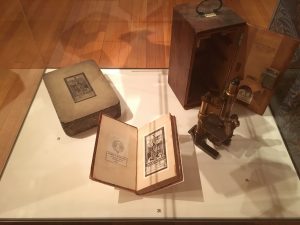 Scope and Contents
The Delaware Academy of Medicine archive has been established to document the history of Delaware medicine, as well as to collect and preserve older medical books and instruments for the study of Academy members and the public. It consists of slightly over 3,000 items of medical interest, most of which have been acquired through donations from the state's medical community over the last 75 years. The archive also actively collects materials created by Delaware physicians, nurses, and dentists. Among its contents are:
Books: The archive holds approximately 1,700 volumes of medical literature dating from 1580 to 1970, with the bulk falling between 1840 and 1950. This includes textbooks, essays, bound journals and other periodicals, reports of symposia, popular books, biographies and histories, reference works, and fiction, among others. A subgroup is books written by members of the Delaware medical community, not necessarily on medical topics; this subgroup is of more recent vintage, with most holdings being from the 1970s to the present.
Files: The archive has acquired 31 linear feet of archival files from several sources, including: records created by the Academy itself, including minutes of Academy committees, correspondence, general files of library staff, records from meetings and other events held at the Academy, and posters and other advertising material; minutes and other records from Delaware state medical and dental societies; and the biographical collection, or "name files," which consist of personal and informational records donated by individual members of the Delaware medical community, such as articles by or about them, curriculum vitae, professional records, oral histories, correspondence, and other memorabilia. Collectively, these files range from the late 19th century to the present.
Artifacts and artwork: The archive has a large collection of old medical containers and equipment, including medicine bottles, dentist's and surgical tools, medical instruments, and doctors' bags. The archive's art collection consists mostly of paintings and sculptures by Delaware doctors, nurses, and dentists, or their families. Some drawings and paintings of the Lovering Avenue building, including blueprints from the 1930 reconstruction and the 1958 addition, have also been acquired. The bulk of the art collection has been produced in recent decades, from the 1970s to the 1990s.
Photographs: The archive's photograph collection is small and is made up almost entirely of black-and-white portrait photos of doctors, nurses, dentists, or other significant figures in the history of the Academy or Delaware medicine in general. This includes the sixteen founders, all former presidents of the Academy, and six "Ladies of the Library" (four co-founders who raised funds to establish the Academy and two past library directors). The archive also has a collection of glass plate negatives taken during World War I, most showing wounded soldiers. Most photographs in the archive's collection are from either 1915-1930 or 1970-present, with a few from the late 19th century and the 1950s.
Arrangement
The archive is divided into five record groups. Four of these groups reflect a particular type of material, as noted in the scope and contents section. Books are physically arranged by subject, and classified in the library's catalog, along with the library's other holdings, by title, author, and subjects. Archival files and photographs are arranged by provenance, following standard archival practice. Artifacts are arranged according to function, using a system of classification developed by the archivist and based on several sources, including systems used by the National Museum of Health and Medicine and the Dittrick Museum.
The fifth group is the "donor collections," which are each tied to a specific Delaware medical professional who contributed material to the archive. Donor collections may include papers, books, instruments, or any other kind of item.
Restrictions
Restrictions on Access
This collection is open to the public.
Restrictions on Use
No publication or reproduction for anything other than personal use without the permission of the Delaware Academy of Medicine. Any use of these materials must be in accordance with the Delaware Academy of Medicine's archival access policy.

Index Terms
This record series is indexed under the following controlled access subject terms.
Organizations:
Delaware Academy of Medicine (Newark, Del.)
Subjects:
Dentistry — Delaware — history
Medicine — Delaware — history
Nursing — Delaware — history
Pharmacy — Delaware — history
Administrative Information
Processing Information
Arranged and described by Christopher Shea, April 2007. Last update to finding aid by Christopher Shea, April 2007. Dates given in detailed listing below are the dates of creation or publication, not acquisition or accession, unless noted otherwise.
Detailed Description of the Collection
RG1. Books and journals, 1658-1970
RG2. Artifacts
A. Diagnostics
A1. Cardiovascular
A2. Neurological
A3. Imaging
A4. Internal Examination
A5. Physical Examination
B. Microscopy
C. Surgery
C1. General Surgery
C2. Dissection
C3. Drainage and Suction
C4. Electrosurgery
C5. Hemostasis
C6. Ligation
C7. Neurosurgery
C8. Thoracic/Cardiovascular Surgery
C9. Endoscopy
C10. Orthopedic and Plastic Surgery
C11. Abdominal/Rectal/Genitourinary Surgery
D. Anesthesia and Analgesia
E. General Medicine
E1. Bandages
E2. Cardiac Pacing
E3. Catheterization
E4. Dilation
E5. Doctor's Bags/Medicine Chests
E6. Drug Delivery
E7. Emergency Treatment
E8. Hospital and Laboratory Equipment and Glassware
E9. Hygiene and Sterilization
E10. Irrigation
E11. Lithotripsy
E12. Physical Therapy
E13. Punctures, Bloodletting, Transfusion
E14. Technology, Medical
F. Otorhinolaryngology
G. Ophthalmology
H. Obstetrics and Gynecology
I. Pediatrics
J. Nursing
K. Pharmacy
L. Dental
L1. Diagnosis, Oral
L2. Dentistry, Operative
L3. Endodontics
L4. Periodontics
L5. Prosthodontics
L6. Surgery, Oral
L7. Technology, Dental
M. Mementos, Curiosities, and Quackery
N. Teaching Aids
O. Furniture
P. Military Medicine
Q. Homeopathy
R. Artwork
RG3. Files, undated-2006
AF. Delaware Academy of Medicine records, undated-2006
AF1. President's reports, 1931-89, 4 folders
AF2. Board of directors minutes, reports, and correspondence, 1932-89, 7 folders
AF3. Executive committee minutes and correspondence, 1930-92, .5 cubic feet
AF4. Academy bylaws, undated-1984, 8 folders
AF5. Gail P. Gill papers, 1968-2003,
AF6. Eugene Syrovatka papers, 1964-77,
AF7. Treasurer's reports/audits and fundraising letters, 1932-2003, .5 cubic feet
AF8. Annual business meeting minutes and correspondence, 1941-79, 3 folders
AF9. Finances ledger, 1941-57, 1 book
AF10. Long-range planning committee records, 1971-84, 1 folder
AF11. Scientific committee correspondence and brochures, 1933-52, 1958-59, 2 folders
AF12. Educational committee records, 1960-65, 4 folders
AF13. History committee correspondence and minutes, 1993-2006, 6 folders
AF14. Membership committee correspondence and minutes, 1946-89, 3 folders
AF15. Nominating committee correspondence and candidate lists, 1933-88, 1 folder
AF16. Membership applications, 1983-2002, 2 binders
AF17. House committeee correspondence and minutes, 1933-70, 3 folders
AF18. Building records, 1921-87, 28 folders
AF19. Meeting and rental correspondence, schedules, and flyers, 1946-80, 4 folders
AF20. Endowment and building fund correspondence, minutes, and pledge lists, 1931-62, 9 folders
AF21. Newsletters, 1936-42, 1982-2005, 7 folders
AF22. Booklets, brochures, and other publications, undated, 9 folders
AF23. Student financial aid terms and clippings, undated, 2 folders
AF24. Circuit Riding Medical Librarian program records, 1985-2006, 6 folders
AF25. Health Sciences Libraries Consortium records, 1987-2001, 1 folder
AF26. Academy correspondence, 1929-90, 6 folders
AF27. Press releases, letters to the editor, and clippings, 1930-60, 7 folders
AF28. Agreements between Academy and Wilmington Trust, 1934-58, 1 folder
AF29. Wawaset Street houses correspondence and contracts, 1976-90, 5 folders
AF30. Academy Place correspondence and contracts, 1932-79, 4 folders
AF31. Feasibility study for medical school in Delaware, 1963-64, 4 folders
AF32. Delaware Library Consortium records, 1988-2006, 1 folder
AF33. Signs and posters, undated, 2.5 cubic feet
EV. Delaware Academy of Medicine events records, 1938-2000
EV1. Annual meeting and banquet records, 1955-2000, .5 cubic feet
EV2. Health fair records, 1961-63, 3 cubic feet
EV3. Delaware Health Forums records, 1956-70, 4 folders
EV4. Public health forums records, 1933-44, 1 folder
EV5. Public health seminars records, 1975-76, 1 folder
EV6. Medical symposia records, 1938, 1956, 1959, 1963, 1971, 1 folder
EV7. Symposium on Trauma records, 1955-56, 2 folders
EV8. Medico-legal symposium records, 1956, 2 folders
EV9. School Health Symposium records, 1960, 1 folder
EV10. PDA conference records, 2004, 6 folders
EV11. Delaware State Science Fair records, 1956, 1957-68, 2 folders
AC. Academy collections, undated-2006
AC1. Biographical collection, undated-2006, 3 cubic feet
AC2. Organizations collection, undated-2001, 1 cubic foot
MSD. Medical Society of Delaware records, 1822-2001
MSD1. House of Delegates minutes, 1906-22, 1 book
MSD2. Pictorial rosters, 1972-2001, 1 cubic foot
MSD3. Ledger, 1822-1931
NCC. New Castle County Medical Society records, 1911-96
NCC1. Minutes, 1911-75, 7 binders and 1 book
NCC2. Pictorial rosters, 1962-68, 3 booklets
NCC3. Membership applications, 1906-22, 12 binders
NCC4. Women's Auxiliary records, 1948-81, 1986-87, 1995-96, 1.5 cubic feet
NCC5. Women's Auxiliary ledger, 1948-63
DSDS. Delaware State Dental Society records, undated-1986
DSDS1. Minutes, 1881-1950, 1955-88, 8 books
DSDS2. Constitution, by-laws, and member list, 1881-1902, 1 book
DSDS3. List of registered dentists, undated, 1 book
DSDS4. Women's Auxiliary records, 1964-86, 2 cubic feet
BDE. State Board of Dental Examiners records, 1885-1931
BDE1. List of certified dentists, 1912-31, 1 book
BDE2. Secretary's record book, 1885-1912
BDE3. Treasurer's ledger, 1888-1923
NSW1. Nursing School of Wilmington collection, 1930-84, 2 cubic feet
HMS. Homeopathic Medical Society of Delaware State and Peninsula records, 1895-1951
HMS1. Minutes, 1910-51, 1 book
HMS2. Examination scores record book, 1895-1946
MF. Miscellaneous files, undated-1964
MF1. Instrument instruction sheets, undated, 1 folder
MF2. Dr. Victor Frankel letter, article, and programs, 1936-60, 1 folder
MF3. Dr. E. S. Dwight scrapbook, notebook, and ledger, 1872, 1878, 1884-85, 1 book

PH. Photographs, undated-2006
PH1. Academy photos, 1930-84
PH2. Photos of medical personnel, circa 1876-undated
PH3. Slides of Delaware hospitals and other locations, 1920-66
PH4. Photo collection, undated-2003
PH5. Slides of gynecological and laparoscopic subjects, undated
PH6. World War I glass-plate negatives, circa 1915
PH7. Miscellaneous photos, 1890-undated
RG5. Donor Collections, 1859-1997
DC1. The Daniel J. Preston Collection, 1890-undated, 4 cubic feet
DC2. The John M. Levinson Collection, 1890-undated, 8 cubic feet
DC3. The Barbara B. Rose Collection, 1997, 1 painting and 11 items
DC4. The R. Douglas Sanders Collection, 1965-95, 2 paintings and 2 instruments
DC5. The S. James Krygier Collection, 1859-1952, 1 cubic foot
DC6. The Lewis B. Flinn Collection, 1920-66, 1 cubic foot
DC7. The Norman L. Cannon Collection, 1913-2000, 3 cubic feet
DC8. The George A. Zurkow Papers, 1994, 1 audiotape
DC9. The Robert W. Frelick Collection, 1950-2006, 2 cubic feet