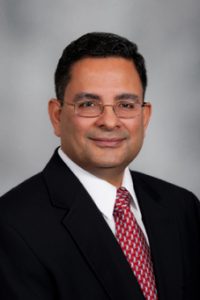 Dr. Malhotra received his Bachelor of Medicine and Surgery (MBBS) from the Armed Forces Medical College of India in 1990.  He completed his residency at King Edward Memorial Hospital, University of Bombay, India from 1989 – 1992.  He completed an internship and residency in internal medicine at Albert Einstein Medical Center, Philadelphia, PA from 1996 – 1999, where he earned the position of Chief Resident from 1998 – 1999.  He completed a fellowship in the Renal, Electrolyte, and Hypertension Division at the University of Pennsylvania from 1999 – 2001.  He currently has a private practice, Nephrology Associates, P.A. in Newark, Delaware.
Dr. Malhotra was the president of the Delaware Academy of Medicine from 2014 – 2016, and was awarded the 2013 Nurse Physician Partner at Christiana Care Health System.
Dr. Malhotra is an associate member of the American Society of Nephrology, a Board Member of the American Society of Nephrology, Delaware Chapter, and a member of the National Kidney Foundation, the American College of Physicians, Renal Physicians Association, and the Medical Society of Delaware.