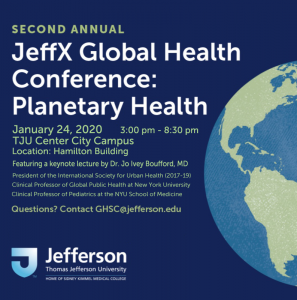 Join the Global Health Student Consortium for the 2nd Annual JEFFx Global Health Conference!
WHEN: Friday, January 24, 2020 from 3:00 – 8:30 pm
WHERE: Hamilton Building, Thomas Jefferson University
1001 Locust Street, Philadelphia PA
This year's conference will center around the theme of planetary health, and will include a keynote address, interactive workshop sessions, a networking dinner, and a reception! For more information and to register, please complete this registration form. Feel free to contact GHSC@jefferson.edu with any questions. We hope to see you there!
KEYNOTE: Dr. Jo Ivey Boufford, MD, President, International Society for Urban Health; Clinical Professor, Global Public Health, New York University; Clinical Professor, Pediatrics, NYU School of Medicine.