A partnership with Christiana Care Health System to improve health literacy and to encourage middle, junior, and high school students to pursue a career in the health sciences.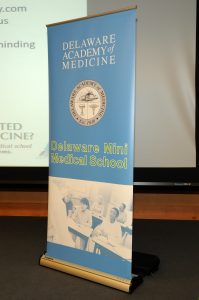 Mini Medical School 2019 sessions:
March 7: What is Nursing Today?
March 14: Clinical Research Trial – The Basics
March 21: Aging and Memory, Memory Impairment, and Memory Care
March 28: What Does Innovation Have to Do With Health Care?
April 4: The Gene Editing Revolution
April 11: New Developments in Vascular Surgery
Registration begins at 6:30 pm, and class is held from 7:00 – 9:00 pm.  Register now online, or call 800-693-CARE (2273)
Visit www.delawareminimed.org for more information.
Did you miss Mini Med 2018?  Check out all the lectures on YouTube!  Click here!