A partnership with ChristianaCare to improve health literacy and to encourage middle, junior, and high school students to pursue a career in the health sciences.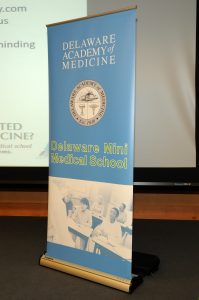 Mini Medical School 2020 sessions:
February 27. Special Health Care Needs – Making the Transition to Adulthood for those with Special Needs
March 5. Kidney Transplant: Preparation by the Donor and Recipient
March 12. Psychological Assessment: Tools and Methods for Understanding Our Behaviors
March 19. The Evolution of the Nurse Practitioner and Physician Assistant Role in Medicine
March 26. The New Field of Immunotherapy
April 2. Parkinson's Disease and Movement Disorders
Registration begins at 6:30 pm, and class is held from 7:00 – 9:00 pm.  Register now online, or call 800-693-CARE (2273)
Visit www.delawareminimed.org for more information.
Did you miss Mini Med 2018?  Check out all the lectures on YouTube!  Click here!