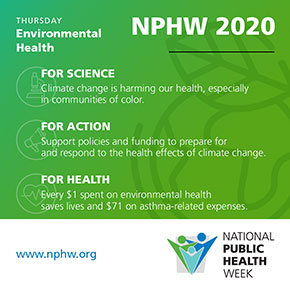 Due to the current COVID-19 pandemic, APHA is hosting #NPHW entirely online this year, and has made a few updates to how we are celebrating this year.
Daily Themes:
Monday – Mental Health
Tuesday – Maternal & Child Health
Wednesday – Violence Prevention
Thursday – Environmental Health
In perhaps one of the few silver linings of the COVID-19 pandemic, air pollution, specifically CO2 levels, diminished in Italy due to dramatic lifestyle changes. Yet as always, changes in people's lifestyle patterns can have unexpected consequences on our environment. For now, remain vigilant in recycling plastics. If you are sick, dispose of soiled items by double-bagging in secured containers with lids. Continue to advocate for increased funding to improve our water infrastructure and adequate funding to support public health workers in monitoring, preparing for and responding to the health effects of climate change.
Friday – Education
Saturday – Healthy Homes
Sunday – Economics