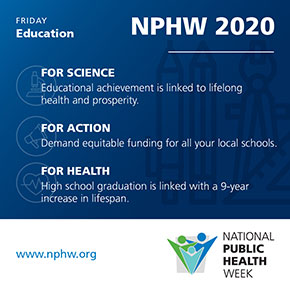 Due to the current COVID-19 pandemic, APHA is hosting #NPHW entirely online this year, and has made a few updates to how we are celebrating this year.
Daily Themes:
Monday – Mental Health
Tuesday – Maternal & Child Health
Wednesday – Violence Prevention
Thursday – Environmental Health
Friday – Education
As with any illness, reliance on science-based information and response is key. Schools at all levels should be engaged in active surveillance and communicate with their state and local public health departments should a person display possible COVID-19 symptoms. Distance learning is now more necessary than ever, heightening the need for access to technology and high-speed internet As schools are often the key source of daily nutrition for students in low-income families, school systems are now called on to find ways to distribute meals while maintaining social distancing.
Reach out to your local school system to see if volunteers are needed, whether for meal distribution, online learning support or other tasks. If you've found yourself suddenly at home with your school-aged children, CDC has advice on how to talk to them about COVID-19, as does the National Association of School Psychologists.
Saturday – Healthy Homes
Sunday – Economics