Immediate Past President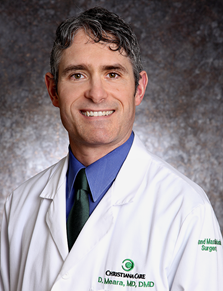 Daniel J. Meara, M.D., D.M.D., MS, FACS joined Christiana Care Health System in 2010, after completing a craniomaxillofacial surgery fellowship at West Virginia University/Charleston Area Medical Center. Prior to that, he completed oral and maxillofacial surgery residency at the University of Alabama, Birmingham, where he also completed a separate general surgery internship. He also previously completed an internship in internal medicine at the University of Pittsburgh. He is the current president of the Delaware Academy of Medicine / Delaware Public Health Association and is chair of the Department of Oral and Maxillofacial Surgery & Hospital Dentistry.
Dr. Meara earned a bachelor's degree in economics at the University of Notre Dame. His master's degree in toxicology is from Michigan State University. His medical degree is from Wayne State University in Detroit, Michigan, and his dental degree is from the University of Alabama. He spent research time at the National Institute of Health and has studied abroad in England, Australia and Japan.  Currently, he is completing his master of healthcare delivery science degree at Dartmouth College.
Dr. Meara is board certified and a diplomate of the American Board of Oral and Maxillofacial Surgery. He is also a fellow of the American Association of Oral and Maxillofacial Surgeons, the American College of Oral and Maxillofacial Surgeons, the American College of Surgeons, the International College of Dentists and a member of the American Cleft Palate—Craniofacial Association. Dr. Meara is a recipient of the Faculty Educator Development Award, and has interests in residency education, surgical simulation, and performance improvement. Clinical interests include facial injuries, orthognathic surgery, and cleft/craniomaxillofacial surgery.